Inspired by the fundamental states of matter, Into a Several World frames nature then releases it: walls seep, foliage crystalizes, water breathes. The land, inhabited by familiar sounds, journeys into new dimensions.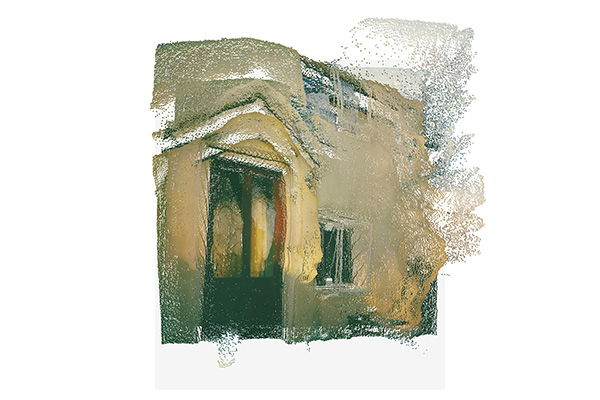 Into a Several World was created during lockdown, when three artists: Julia Schauerman, Jean Hogg and Nicola Schauerman, based in different parts of England, decided to collaborate remotely to create a work combining their skills in sound, photography and code.
PHOTOGRAPHS / Jean Hogg:
I started working with Polaroid and Polaroid 600 stock as I wanted to work in a non-digital way, similar to working with film. For "Into a Several World", I became fascinated by natural projection. Our worlds have shrunk significantly during the lockdown, so focusing on my immediate surroundings felt both inspiring and meditative at times. I live in a cottage in the middle of nowhere, and the trees and the sunshine can frame my days. With the low winter light shining through the bare trees, I captured shadows on the cottage walls. The beauty with polaroid is that something magical that can happen, there is a realness to be captured when air and chemicals combine.
CODE / Nicola Schauerman:
The Polaroid photographs were digitised and then manipulated and recorded in a computer program. I wanted to make a tool that would allow me control over every pixel in three-dimensions in real time, enabling me to imbue the photographs with life; solids become liquids become gas. Working in the open source programming language Processing, I created an interactive animation program, allocating commands to the keyboard and sliders. This meant I could experiment; exploring different combinations of images and actions. Then, when ready, I could press record and repeat the choregraphed moves while capturing the footage.
SOUND / Julia Schauerman:
To compose the soundscape for this work, I drew upon my store of field recordings that I have been capturing with an H2 Zoom Handy Recorder since the first UK Lockdown in March 2020. My selection included both indoor and outdoor sounds; produced by the weather, waterways, creatures and humans. I layered and mixed the material using the open-source audio editor Audacity.
The making of Into a Several World
Julia Schauerman is currently undertaking an MA in Composition (electroacoustics) at The University of Sheffield. During the lockdown period she has been engaged in field recording and composing soundscapes. Most recently, her composition Buzzing City (2020) was included in the Ventanas Acústicas II programme at II Encuentro Internacional de Ecología Acústica México, Dec 2020.
Jean Hogg is a writer-director with a fine arts background working across film, education and broadcast. Hogg graduated with an MA in filmmaking from Goldsmiths College. She has made short films, both drama and documentary, and her campaigns have featured on BBC/ITV. Her work has been screened at film festivals around the world and on TV.
Nicola Schauerman is a digital artist and one half of Genetic Moo, creators of immersive, interactive experiences for over 10 years. Schauerman graduated with an MA from the Lansdown Centre for Electronic Arts. Genetic Moo is based in Margate and has exhibited extensively in the UK and abroad.